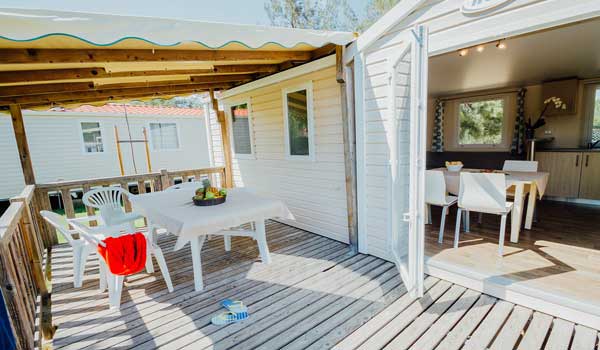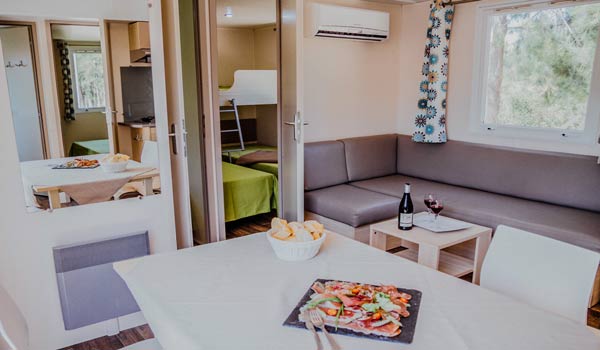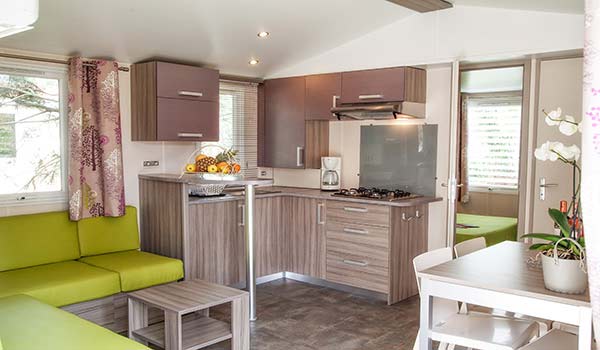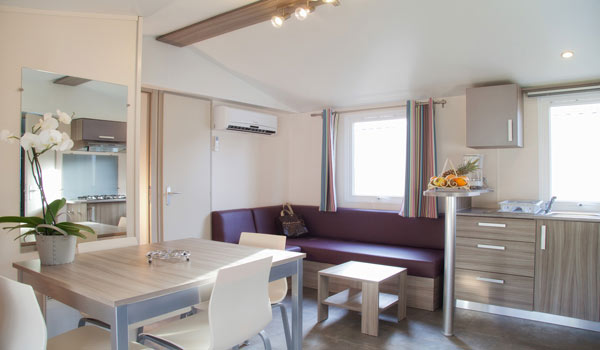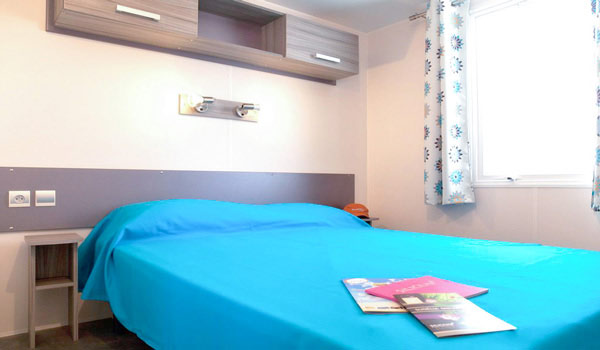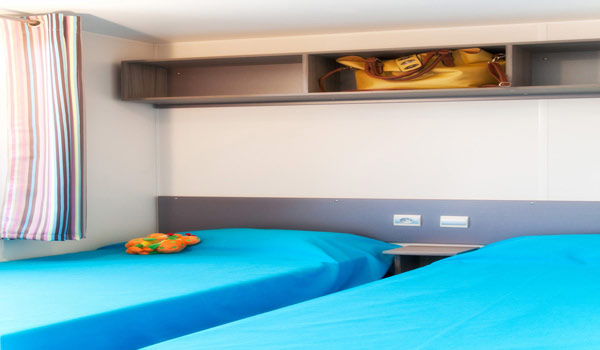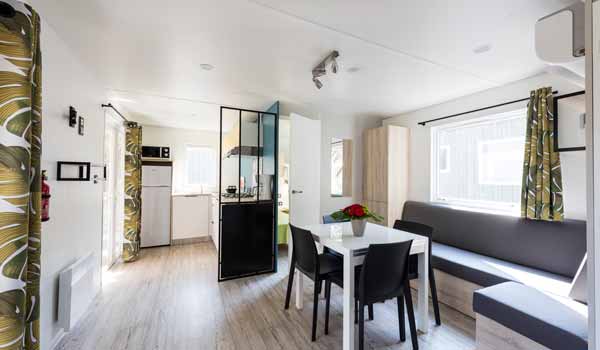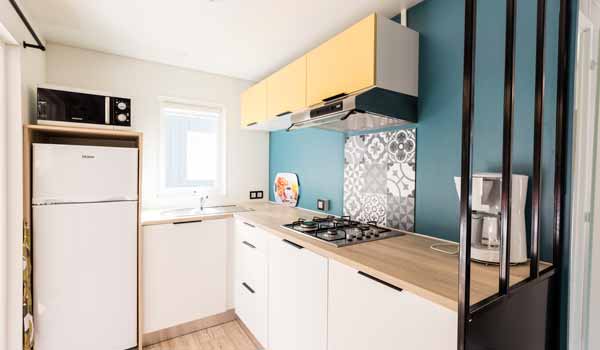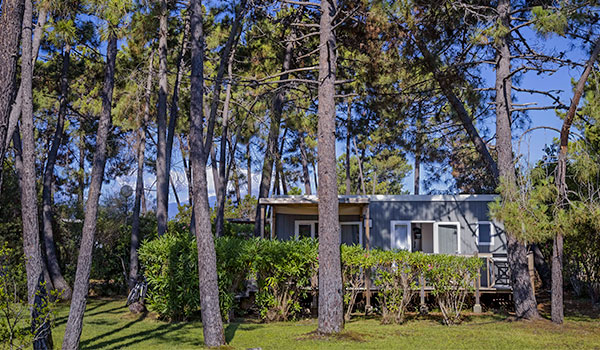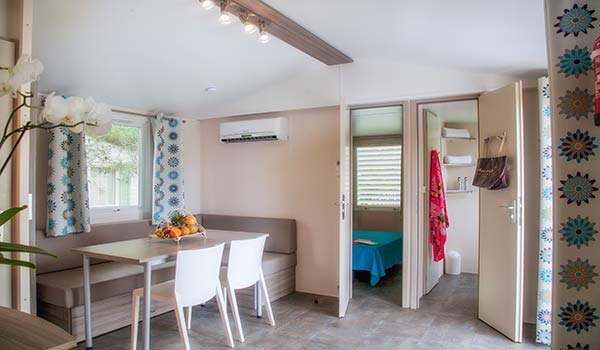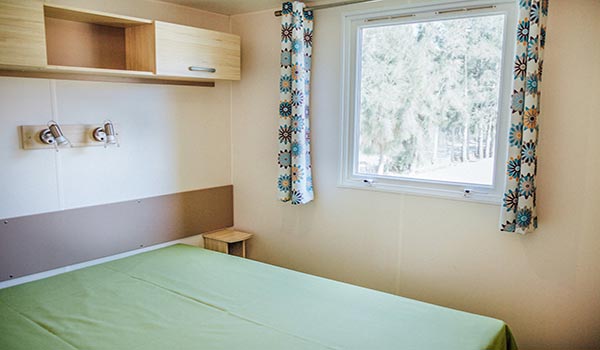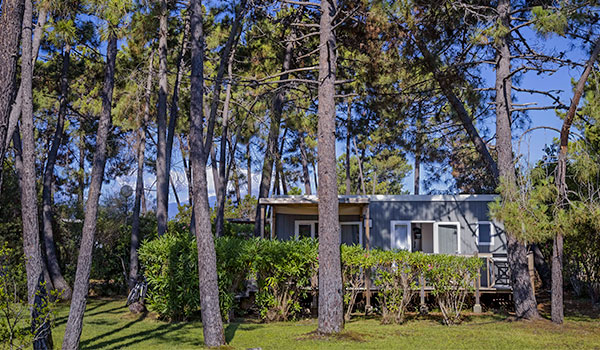 DESCRIPTION OF MOBILE HOME
– Spacious living room with bench
– Fully equipped kitchen: microwave, kettle and toaster
– 1 Master bedroom: double bed
– 1 Children's bedroom: 2 single beds + 1 suspended bed
– 1 convertible bed in the living room
– Shower room and separate WC
– Suitable for PRM ♿
– Air conditioner
MOBILE HOME BOOKING IN CORSICA
ONLINE BOOKING
Rent mobile home comfort in Corsica
Very recent, the Sunêlia Confort receives 4 to 5 vacationers in the best comfort with its surface of 30 m2 and its high quality services. Its contemporary interior decoration, its upscale furniture and its latest generation equipment ensure a holiday without constraints and 100% relaxation. Composed of two rooms, one parental and the second with single beds, the mobil-home Confort is ideal for a couple with children. An extra bed in the living room can accommodate a 5th person in the rental. The living room, furnished with taste, includes a real sitting area with bench and coffee table, and a dining area with table, chairs, and fully equipped kitchen. Bright and functional, the mobile home Confort has plenty of storage space to make you feel at home on holiday and spend a quiet stay. The toilets are separated from the bathroom.
Mobile homes with covered terrace in Southern Corsica
Ideally located 500m from the sea, the mobile home Sunêlia Confort offers holidays combining comfort and nature: in the wooded and landscaped setting of our village Perla di Mare, it has a wooden terrace of more pleasant to enjoy the fresh air everyday. Perce you do not come to Corsica to stay locked, this terrace of 13 m2 is fully equipped to allow you to live as much as possible while enjoying the comfort of your mobile home. Partly covered, it offers a shaded part for relaxation and a sunny part for sunbathing. A complete garden lounge invites you to sit down for a family meal or an aperitif. Parquet and wooden railings make your terrace a charming private corner where to relax.