There are various clubs available for your children, designed to suit different ages (price included in stay).

Kids Club ages 4 and above
They'll enjoy activities and games devised by our animation team, our professional facilitators. The Mini Club is open from 26/05 to 7/10 every day except Saturdays.
From 4 to 11 years old, your children are welcomed by a professional animation team at Kids Club: a holiday club reserved for children that aims to make their stay unforgettable! From Sunday to Friday, they will learn to know each other through great games and fun Olympics. Between original manual activities and show preparation, your children will not be bored during their holidays in Corsica. The animation team benefits from the framing of exceptional leisure facilities: fun water park, outdoor playground, inflatable structure, sports equipment and, of course, the beach with direct access: ideal for organizing major competitions sand castles!
Lots of fun, creative and sporting activities are on the agenda at Perla Di Mare campsite  in Ghisonaccia. Safety guaranteed with facilitators who have been specially trained in looking after young children. Parents can enjoy Corsica, with complete peace of mind, while their children have fun.

KIDS CLUB for 4 – 11 year olds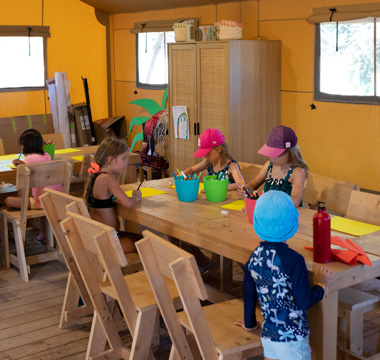 Teen club
The teen club receives your children from 12 years: our supervisors offer them activities adapted to their age, their tastes and their need for autonomy. Between creative challenges and sports tournaments, they get to know each other quickly to form a happy band of inseparable. On the program of their holidays in Corsica, unifying projects such as shooting a video, creating a choreography, directing sketches or creating an artistic fresco. Youth energy is channeled through sports and fun activities on the multisport field or the aquatic area.