Campsite near Bonifacio
Bonifacio, discover an enchanting picturesque city
Stopover for the most beautiful yachts and tall ships sailing on the Mediterranean, famous for its superb limestone cliffs, Bonifacio is one of the most beautiful towns in Freto and Southern Corsica. Come and discover for yourself the charms of this ancient Genoese city by staying at the Sunêlia Perla Di Mare in Bonifacio.

Campsite in Bonifacio 4 stars
Campsite Sunêlia Perla Di Mare Bonifacio offers rentals of high-end mobile homes and mini villas prestige built on the basis of one criterion: excellence. All our luxury accommodations are spacious, comfortable and fully equipped. We have put together all the ingredients to make your family vacation, your romantic couple getaway or your week with friends unforgettable. Our luxury campsite has a swimming pool, a spa, a bar, a restaurant, a petanque court, a playground and a kids' club. While your children will cycle in the paths of the campsite or play ping pong, you can indulge in your deckchair, on your private terrace, to read your newspaper or answer your emails (Wi-Fi). All our parcels are surrounded by greenery so that you can preserve your privacy, whatever the time of the day. Sunêlia Perla Di Mare in Bonifacio produces a varied entertainment program for young and old every year. In addition, we offer several fun and sports activities outside the campsite: bike rental, hiking, water sports … Our all-inclusive packages allow you to master the budget of your holiday in Bonifacio. Are you one of those who wants the benefits of luxury without the disadvantages? Our 4-star campsite offers you the top of the range in the middle of nature with, as a bonus, an excellent quality / price ratio.
Bonifacio, an enchanting picturesque city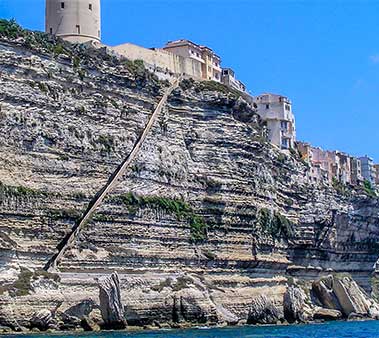 The medieval High City
The Staircase of the King of Aragon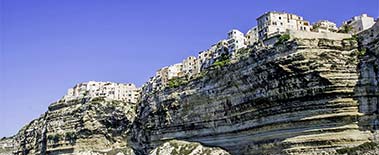 What to do in Bonifacio
Whether traveling by plane (Figari Sud-Corse airport) or by boat from another Corsican city (Bastia, Ajaccio, Propriano), the first thing that attracts the visitor when arriving in Bonifacio is the limestone cliff on which been erected the city. Indeed, the cliffs of Bonifacio and its famous Grain of sand are among the most beautiful landscapes of Corsica, just like the Lavezzi Islands, the caves of Bonifacio and the natural reserve of Bouches de Bonifacio. By entering the city, you will discover one by one its monuments that give it its particular charm, including its citadel (Bastion Etendard, Jardin des Vestiges, Ruddy, Well St. Bartholomew), the Church of St. Mary Major, the Church of St. Dominic and the old hermitage of the Trinity. The staircase of the King of Aragon, a staircase carved by man in limestone, is undoubtedly the most striking work of the city. Gather for a few minutes at the marine cemetery before heading out to the lighthouses (Madonetta, Pertusato) and the beaches of Bonifacio (Rondinara, Balistra, Paragan, Big and Small Sperone, Piantarella, Tonnara, Co Fazzio).