Our seaside campsite in Corse , with direct beach access, offers a range of high quality amenities to make your holiday special. You'll find a range of amenities, either on site or near Perla di Mare, so you can enjoy a hassle-free holiday.

On site
Arrival times are as follows :
From 04/05 to 31/05 and from 28/09 to 13/10 : Every day between 2 – 6pm
From 01/06 to 27/09 : Saturday between 5 and 8 pm. The other days between 5pm and 7pm.
In case of late or delayed arrival, call +33.4.95.56.53.10
Our team will be available to provide practical information and help during your stay.
Bar restaurant: open from 04/05 to 13/10. Our staff will serve you in an idyllic setting, facing the sea. Buffet style breakfast, lunch, aperitif, dinner, snack at any time.
Takeaway pizzas: enjoy a delicious pizza made by Cristiano, our Italian pizza chef. To eat on site or take away for lunch or dinner
Reception open every day.
In summer, continuously from 8h to 19h and 9h 12h 14h 18h in off season.

Spa: A direct-access well-being area with sea view, perfect for recharging your batteries. We've thought of everything so you can enjoy some special "me-time." Everything you need to get back to basics. Our Corsican spa is open from 04/05 to 13/10. This year, you'll be looked after by our spa practitioners!
Children's club, open to children aged 4 and above, from 04/05 to 11/10 every day except Saturdays. Your children will be able to enjoy a variety of games and activities, supervised by our team of facilitators.
Children's games: free access to playground (under parental supervision) and bouncy castle from 04/05 to 13/10.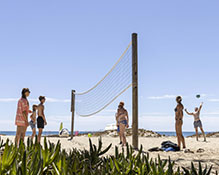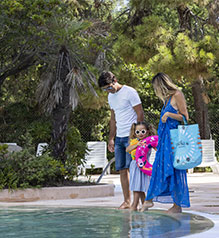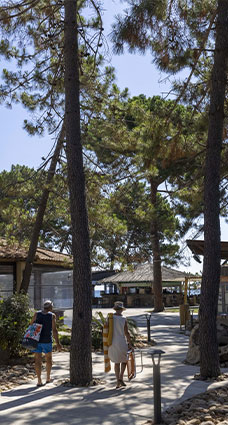 Leisure activities and entertainment: from 04/05 to 11/10, our event team organizes a full programme with sports competitions (aerobics, aqua aerobics, volley ball, archery, table tennis, boules), pre-dinner games, dancing and themed evenings (Cabarets, quizzes, karaoke, dance shows)
Cross fit and outdoor multisport field
Pool area: comprising an area for adults looking for rest and relaxation and a play area for youngsters; in short: a lovely Corsican campsite with pool, guaranteed to delight the entire family!
Organic farmers' market every Sunday in high season
Nearby:
Supermarket and car hire just 500 metres from campsite
5 km from village
Top-of-range services
Payable on site
Bed linen rental: 18 €/bed. Possibility for guests to bring their own sheets, provided on arrival for villas and cottages ****
Towel hire: 12€/person (for one large and one small towel). Possibility for the client to bring their own towels. provided on arrival for villas and cottages ****
Final cleaning: Possibility for the client to clean his own accommodation in our open-air hotel.
Mobile homes and T,T2,T3,T3 FIORI: 95€.
Villa T4: 120€.
Baby bed: to be requested at reservation, 4.€ per day – high chair 2€ per day – baby bathtub 7€ per week. bed+chair included in cottages**** and villas
Laundry: Washing machine and dryer with coin operated machine (washing powder included). Open 24 hours a day.
Choice of pitch: 40e per pitch and per stay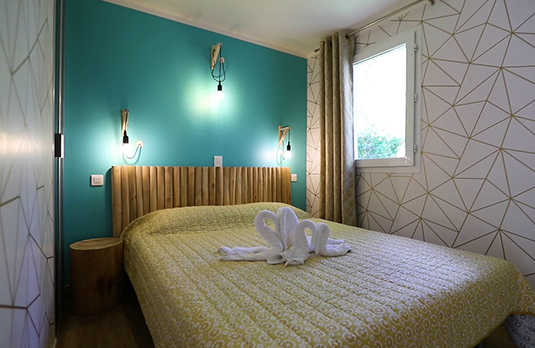 HOTEL-STYLE SERVICE
to be bokked before arrival
Beds made on arrival and bed linen changed on request, maximum 2 times per week
Towels provided on demand
Linen provided (tea towel), changed at most twice a week
Daily cleaning of 30 minutes outside kitchen area
Final cleaning
Rates
€17/pers/day for 2 persons in the accommodation
€14/pers/day for 3 or more people in the accommodation
Novelty
beds made on arrival: 12e/ bed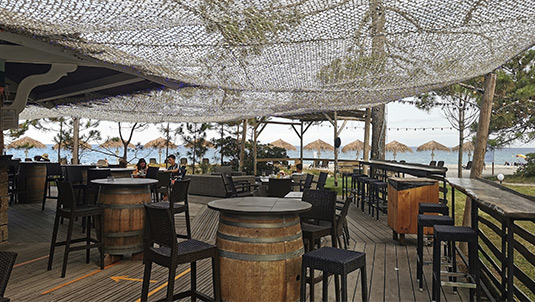 MEAL ARRANGEMENTS: Price per person per day depending on availability
| | | | | |
| --- | --- | --- | --- | --- |
| OPTIONS | 7 DINNERS | 1/2 BOARD | FULL BOARD | BREAKFAST |
| ADULT (from 12 years) | €22 | €30 | €52 | €15 |
| CHILD (6 – 11 years) | €11 | €19 | €30 | €9 |
| CHILD (3 – 5 years) | €5 | €7 | €12 | |
7 dinners – 1/2 board – full board (starter + main course or main course + dessert) available from 4/05 to 5/07 and from 7/09 to 13/10
PAYABLE ON ARRIVAL:
Deposit €200 (not cashed): Credit Card, cheque (cancel after departure)
Visitors' Tax: €0.88/person/day (subject to increase)
Eco-contribution: €0.65/person/day
ARRIVAL:
For May, June and September: arrivals every day between 2pm and 6pm.
For July and August: Saturday between 5pm and 8pm and the other days between 5pm and 7pm.
In case of late or delayed arrival, call +33.4.95.56.53.10
DEPARTURE:
All accommodation must be vacated by 10 am
ANIMALS
Not permitted (unless under 5 kg)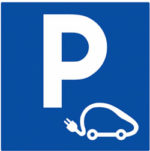 2 "paying" recharging stations are available on our campsite.
Service at the beach:
Beach chair rental: 60€/week/chair or 20€/day/chair

Launderette
Enregistrer

Bike hire

Table tennis
Enregistrer

Snack Bar

Gym

Restaurant Pizzeria

Spa

Bread delivery

Boules

Wifi access

Water aerobics
Enregistrer

Take out food

Sunny club