Sports activities at the campsite in Corsica
Perla di Mare campsite offers high quality sports facilities: outdoor weight training area, beach volleyball court, multisports ground, water park, bowling alley, but also ping-pong tables and fitness equipment. From May to October, you can also enjoy friendly sporting activities for all ages: find yourself with your family around a tournament of volleyball, table tennis or petanque! Ideal for aeration of the mind and keep fit, our campsite also offers aerobics, aqua aerobics, stretching, zumba, buttocks, or introductory shooting courses. the arc. For a revitalizing holiday, choose from our wide range of activities, one that adapts to your abilities, your age, your tastes and your pace! The sessions, tournaments and aquatic Olympics organized by our animation team have a good humor.
New: CrossFit and outdoor multisport field
An outdoor multisport field allows the practice of handball, football or basketball. Highly prized by young people, it can be the venue for tournaments organized for all campers or as part of the teen club. The artificial turf makes its surface a comfortable ground for the practice of many sports. You can come play ball with his children, train alone to put some baskets, or challenge his neighbors campsite in a friendly. The most athletic of you will appreciate the setting up on our site of equipment and sessions of CrossFit. Organized by professionals, these sessions make you work together endurance, power, speed, flexibility, agility, strength and balance. A weight training course with Roman chairs and traction bars is present on the site, as well as cross-fitness equipment: weights, mats, straps, dumbbells.
cross fit and outdoor multisport field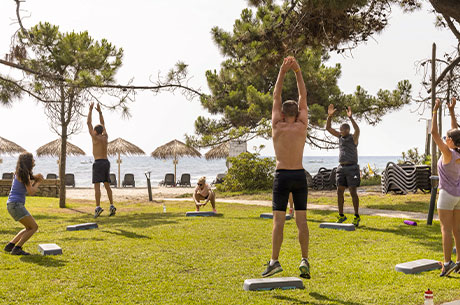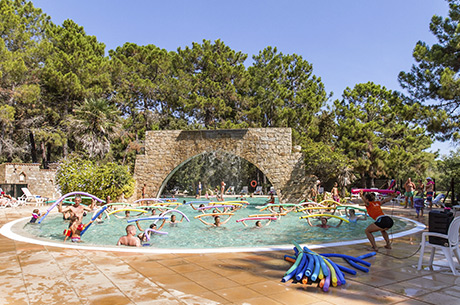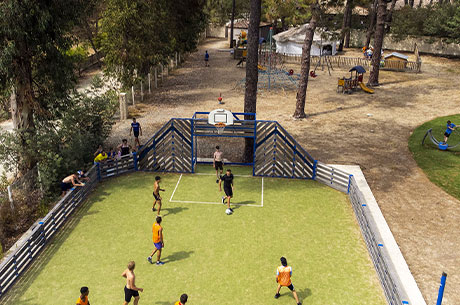 Sporting activities at the campsite