Eating at the campsite near Solenzara
In an idyllic setting shaded by pine trees and feet in the water, the restaurant of Perla di Mare invites you to discover Corsica through its beautiful gastronomy. From May to October, you can enjoy typical local dishes prepared with fresh local produce, or you can eat on the go with a snack service. Our professional pizza-maker concocts real Italian pizzas that you can take away in your vacation rental. Practical formulas are proposed for a stay without constraints: the full board including breakfasts, lunches and diners, the half-board which reserves you a meal a day in the restaurant, or the card 7 diners . On the menu of your holiday, monkfish medallions, parillada of fish, swordfish steak, frito misto, or Thai salad, from a wide choice of fresh appetizers and summer dishes.
Taste the delights of Corsica
Territory of sea and mountain, Corsica marries in its kitchen its Mediterranean identity and the richness of its mountain soil. Savory, generous and varied, the Corsican cuisine is based on local products of high quality: sheep's cheese, sun vegetables, meats, wines, olive oils and chestnut flour, mushrooms, and of course many fish from the region. rock. The Perla di Mare restaurant is dedicated to making you discover this remarkable and unique culinary heritage during your stay on the Cosat Serena, through its usual menu, but also through thematic evenings during which local products and specialties local people are honored. Migliacci, estouffades, aziminu, brocciu and falculelle, Corsican food will soon have no secrets for you!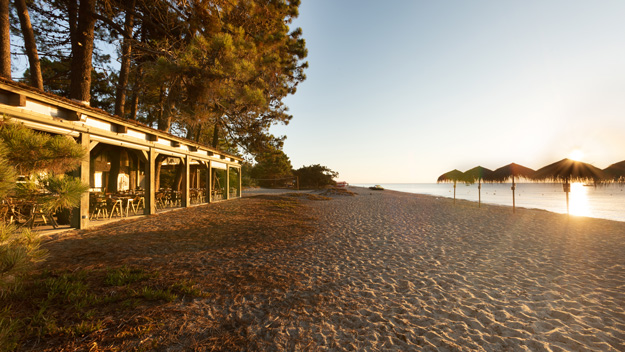 Corsican delicacies
straight off your plate.
This North Corsican campsite boasts a beachfront bar and restaurant with sea view; it's open from 13/05 to 8/10, breakfast through to dinner and serves a variety of food. Buffet or continental style breakfast, lunch, aperitif, dinner, snack at any time.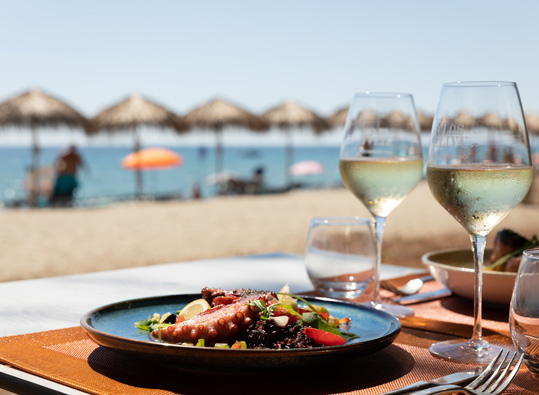 MEAL ARRANGEMENTS: Rates per person per day depending on availability
| | | | | |
| --- | --- | --- | --- | --- |
| OPTIONS | 7 DINNERS | 1/2 BOARD | FULL BOARD | BREAKFAST |
| ADULT (from 12 years) | €22 | €33 | €52 | €15 |
| CHILD (4 – 11 years) | €11 | €19 | €30 | €9 |
| CHILD (2-3 years) | €5 | €7 | €12 | |


Sample fresh flavours, and local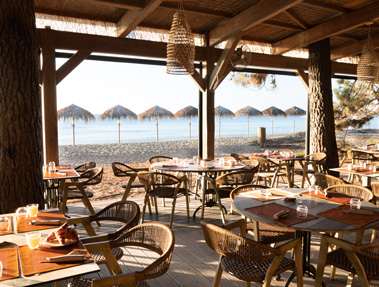 Takeaway pizzas
Takeaway pizzas: enjoy a delicious pizza made by Cristiano, our Italian pizza chef. To eat on site or take away for lunch or dinner